Back to "World Cup Aksaray, Turkey 2021, Season 2022"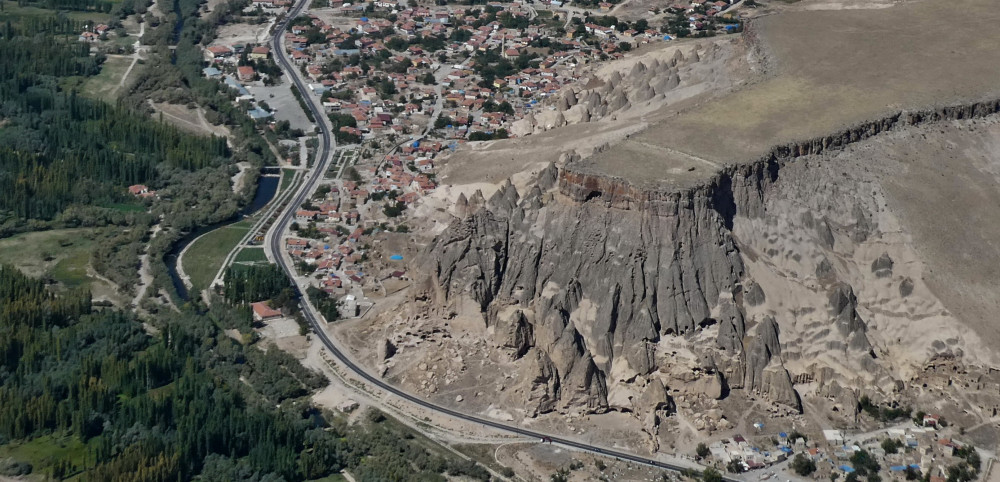 Summary written by Ruth Jessop
An 84 km task was set taking the pilots north, then back south of the volcano to goal.
Today the pilots got higher than during previous tasks. World Cup cameraman, Zion Susanno topped out at 4180m. The thermals were the best we've had all week; smoother and stronger than ever before.
One of the highlights of today were the views of the volcano as everyone waited to take the start. A quick turn point out in the plains, then they headed north-east.
The gorge at Ihlara, at turn point two, a major tourist attraction en route, provided a great photo opportunity. The gorge the pilots flew over is the start of the Cappadocia troglodyte village network.
Then it was time to head back towards Hasan Dagi. At the third turn point some pilots went further into the cylinder and got high, stayed high and had a more economical route to goal. Between the third and fourth turn points the pilots spread out but came back together again for the race to goal.
The race to End of Speed was a very close one and the first two pilots, Gleb Sukhotskiy and Jan Jares, crossed within a riser of each other.
With only four ladies in the race today, it was great to see Galen Kirkpatrick come across End of Speed in fourth place, in her fourth World Cup task.
In the words of Austin Cox, also flying in his first World Cup, 'that was fun, nice climbs, great views and interesting convergence, giving long, lifty lines.'
The first 91 pilots made goal, and thus all flew the same distance, and gained the same distance points. Today's winner is therefore the one with a combination of the best speed points and lead out points.
Top 3 speed point winners – the fastest pilots round the course:
2:13:51 Gleb SUKHOTSKIY and Jan JARES flying at an average speed of 33.8km/h
2:14:03 Martin JOVANOSKI
Top 3 leading point baggers – those who were in the lead the most:
161.4 Gleb SUKHOTSKIY
153.2 Cristobal OREZZOLI
152.3 Gavin MCCLURG
Top 3 in task 4
1st Gleb SUKHOTSKIY
2nd Jan JARES
3rd Martin JOVANOSKI
Top 3 ladies
1st Galen KIRKPATRICK
2nd Violeta JIMENEZ
3rd Daria KRASNOVA
Top 3 teams
1st Gin Gliders
2nd Ozone
3rd Flymaster
Best newcomers: Galen Kirkpatrick, Michal Talavašek and Christopher Cote
The media links from today
Follow the IG Account
IG Reel
Today's Live
Today's Stories